Craigslist Ads – Making The Most Of Your Custom Text Codes
Ok, I already know what you're thinking and I doubt you can roll your eyes any harder after reading that title, but hear me out… Back in the heyday of Craigslist (CL), agents that were 'in the know' cleaned house (cheesy pun intended)! They absolutely crushed it and made fortunes. Then all the other agents caught on and CL changed things up making it far less successful than years past. MOST agents have stopped posting to CL altogether… leaving opportunity for those of you that understand how to maximize it's potential.
So what changed?
Two things.
1) CL removed the ability to insert active links to outside pages.
2) Users migrated to mobile browsing.
Those two things quickly changed the real estate landscape on Craigslist. Think about how hard it is to select a long link on a mobile device and paste it into a new browser window… It isn't impossible, but it surely isn't easy, and many users just aren't going to try.
Enter Kunversion Custom Text Codes!
Single Property Ads
Text 'LAKEFRONT' to 123-456-789 to view full listing details, more pictures, and to request a private showing with a single touch of a button!
The key here is to not give away too much in your initial post. Give them a taste of how great your listing might be, but leave them wanting to see more. We have found that including just 3 pictures works well (usually Front Exterior, Back Yard, and Kitchen). Also, never post the address or price. If you post the address, leads can quickly look up the property on any one of the 19 million home search apps they have installed on their phones. If you post the price and it is out of the lead's budget, they'll just move on.
Two other pro tips:
1) Use emojis in your titles. They don't show up properly on desktop, but who cares. The vast majority of traffic is going to come via mobile browsers, and the use of emojis will make your posts stand out. You can copy and paste emojis into your ad titles from sites like Emojicopy or Emojipedia.
2) Insert your Call-to-Action at the beginning and at the end of your ad text to make it stand out.
Here is one of our more successful Craigslist single property ads. We generated dozens of leads with this one post.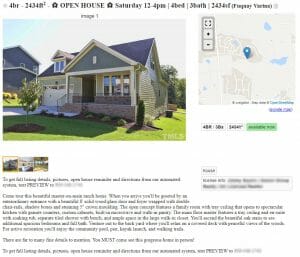 Other Craigslist Post Ideas
Coming Soon
Not Available ONLINE YET… Doing Touch Ups.
To be the first to get a sneek peek text 'OFFMARKET' to 123-456-7890.
Under Average Price
Did you know the average priced home is $465,000 in zip 27519?
Check out our exclusive list of all 27519 homes for sale under average price.
Text 'DEAL' to 123-456-7890 for instant access.