Open Houses – Making The Most Of Your Custom Text Codes
One outside-the-box use of kvCORE's custom text code is to use them at open houses instead of a sign-in sheet. Far too often open house visitors, if they fill out the sign-in sheet at all, will enter false information. To combat this you can employ a custom text code instead of a sign in sheet.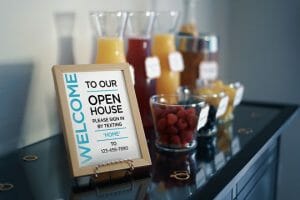 In addition to asking visitors to sign in 'for security purposes',  you can tell them that a digital property listing will be instantly sent to them so they can see all the pertinent details of the property. Maybe even offer a prize (Starbucks gift card) to one lucky winner who signed in. Win – Win!
Yet another innovative use is to make property listing flyers and include a text code that redirects to your instant valuation page. Chances are good that if home buyers are out on their own looking at open houses, they have not committed to an agent yet. Get the conversation started early in the process.
Wondering what your home may sell for in this hot market?
Text 'EQUITY' to 123-457-7890 for an instant home valuation.
Ok, one last (advanced) outside-the-box use for implementing custom text codes at before your open house. Everywhere you advertise your open house schedule, include your custom text code to 'RSVP' with promise to send additional listing information and DIRECTIONS. The immediate redirect can send the lead to your single property listing page. The day before the open house you will send a mass text to everyone who sent the custom text code (you are using hashtags, correct?) with a reminder of the open house. The morning of the open house you can send another reminder with a link to the address on Google Maps. The lead can quickly tap on the link and they'll be directed to your open house!