Sign Riders – Making The Most Of Your Custom Text Codes
Sign riders are a great way to utilize Kunversion's custom text codes to drive leads to your website.
The most obvious use is to direct leads (people driving by one of your listed properties) to text the code and in return you send them a link to the property listing page on your K+/kvCore website. Setup of your Custom Text Code is simple, and once you have a custom sign rider made you can reuse it for future listings as well.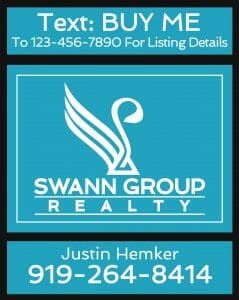 Another common use is to create a custom text code that provides the lead with an 'Ultimate Guide To Buying A Home In 2019'. Your redirect link can simply point to your Buyer Guide PDF.
Yet another great use of a sign rider text code is to capture seller leads before they get in the process of serious house hunting. The reason this works is that many people will start looking at homes before they speak with an agent about listing their current home. It's simple, they want to see what they can get before seriously considering putting their home on the market. You can offer a home seller guide to help them prepare their home for market, or even direct them to your instant valuation page (a word of caution about this: if you point to your instant valuation page and they enter your listing's address, the instant valuation may come back less than your asking price).
As with all custom text codes, be sure that your reply text is under 150 characters or many cell carriers will cut off the text. Use a link shortener service to create pretty URLs.