Customize Your Kunversion & Kvcore SEO Pages
Show you are the local market expert by customizing your Kunversion & kvCORE Neighborhood SEO Pages! We're going to show you how…
Kunversion and kvCore (commonly abbreviated KV) are great out of the box when it comes to handling PPC traffic. What about generating natural traffic? Ranking on the first page of Google for real estate websites is notoriously difficult because of the sheer number of real estate sites out there that all syndicate the same exact property listing information. Search engines place no value on duplicate content. You are not going to rank well by providing the same content as other websites. So how do you get your site to rank in Google and other search engines to start generating organic leads?
It really comes down doing the same things as you would to turn leads into clients. Be the LOCAL expert and showcase your LOCAL knowledge on a micro level. Inside Real Estate (the peeps behind kvCORE and Kunversion) have done a great job at providing areas within both platforms to showcase your own content and neighborhood expertise.
Enter Kunversion and kvCORE Custom SEO Landing Pages!
How To: kvCORE SEO Pages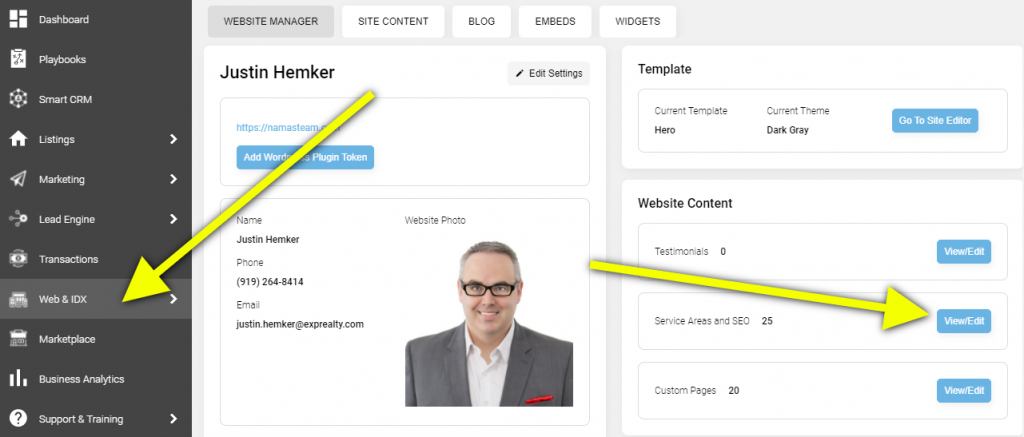 Click on 'Web & IDX' in your admin menu. On the right side of the page, in the Website Content section, click on 'VIEW/EDIT' next to Service Areas and SEO.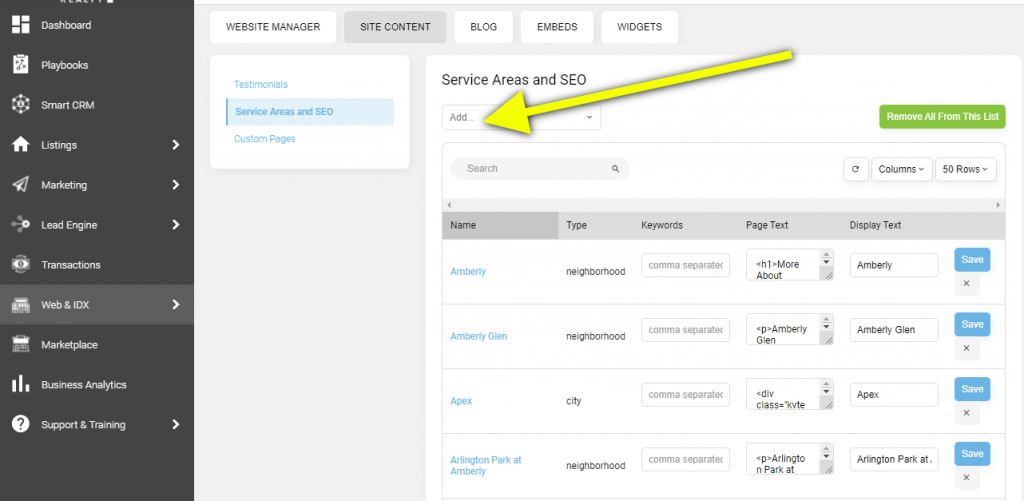 Here you will see a list of all the areas you serve. If you don't see a list that means you will have to manually add the areas you service.
The box we are most concerned with is the page text box. Here is where you can insert your custom content including pictures, videos, and links to resources, as this box does accept HTML code. Unfortunately we are not provided with a built in text editor for this, so your best bet is to create your content as a blog post on your KV site, then copy and paste the resulting code into the Page Text field. Don't forget to save/update when you are done!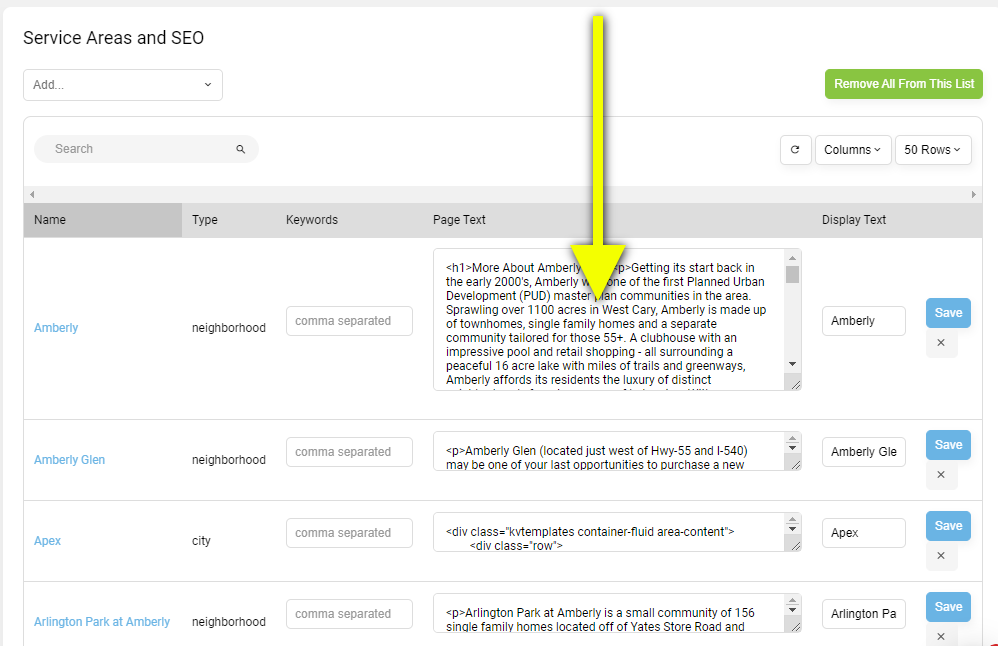 Note: These pages are heavily cached, so you may not be able to see the changes you've made for a couple of hours… Manually flushing the cache does not seem to work for these pages.
But, what about those other fields…?
External URL: This is a Kunversion only field that allows you to assign a custom domain for that SEO Area Landing Page.
Subdomain: This is a Kunversion only field that allows you to assign areas to a specific agent within your organization.
Keywords: You can leave the keywords field blank. You're more likely to get struck by lightning than to influence SEO by inserting keywords into a meta tag. Those days are gone.
Display Text: This is a kvCORE only field, and a nice feature, but seldom used. If the spelling of a particular area is not correct, of if there is a more common local vernacular for an area, you can edit the area name in this field.
---
How To: Kunversion+ SEO Pages
You will need to be logged in on the main Broker account.
Click on 'Settings' in the top menu, then click on 'SEO Landing Pages'. This is where the magic happens!
Here you will see a list of all the areas and neighborhoods you serve. If you don't serve a particular area you can delete it from the list. Pay particular attention to the links pointed out by the yellow arrow at the top of the image. This is where you can change between area types (cities and subdivisions).
---
How To Write For SEO
What (and how) you write here is critically important if your focus is trying to get your kvCORE or Kunversion niche community pages to rank organically on Search Engine Result Pages (SERPs). If your goal is just to provide valuable content to your site visitors, you don't have to be as thorough in how you write this content. However, since the topic of this blog post is about SEOing your site, I'm going to assume you want the former, rather than the latter. Note that SEO is an ever-changing landscape so what works today, may not work tomorrow, but this is a good starting point.
First, let's lay some basic ground rules:
While there is no 'perfect' article length, you should strive for at least 1000 words. The average length of articles that rank on the first page of Google is 1,890 words. The average #1 article on Google SERPs is 2,416 words.
Your content should be unique, original, relevant, and not just paraphrased/rewritten copy from other websites. Google is smart. Google knows…
Research keywords that relate to your area/topic and shoot for a max of 3.0 – 3.5% keyword density within your copy. There are keyword density calculators on the interwebs that are free to use, as are there free keyword suggestion tools to help you along the way. Be sure to include variations of the keywords when ever possible.
The biggest hurdle for most agents is just getting started. Once you sit down and commit yourself to writing your first piece of content for SEO areas you'll find you have a lot to say about the area. Just get started. The deeper the content the better.
For an added bonus, add a table of contents at the beginning of your article.  😉
To learn much, much more about what factors Google uses to rank sites, check out this totally techie-nerd SEO article. While you don't have the ability to affect some of the items listed due to the structure and limited customizability of KV, there is a lot you can do to put your best foot forward in Google's eyes.
What To Include For SEO Area Pages
Here a just a few ideas of content you can include in your area pages:
Talk about the number of homes, condo vs single family homes, architectural style
Where the more affordable and luxury areas are
Proximity to shopping
Proximity to major thoroughfares
Proximity to mass-transportation and airports
Parks, greenways, and recreational areas
Include a driving tour through the neighborhood with you narrating along the route
Include flyover drone footage of the area
Festivals, art fairs, county fairs
Your favorite eateries and watering holes
Pro Tip 1: Include internal links every opportunity you have within your SEO Area content. For example, if you're talking about an area that has beautiful Victorian style homes, create a Squeeze Page Link that will show all homes with that architectural style. If you're talking about luxury areas within your city? Create a Squeeze Page Link that will show listing for the area you're discussing. Get creative. On city SEO Area pages, you can include links to neighborhood SEO Area pages with a short write-up on what you like about that neighborhood.
Pro Tip 2: When linking to SEO Area pages, always capitalize the name of the city/neighborhood in the URL (as opposed to in the link text). This has nothing to do with SEO, but if you fail to do this the area name will not be capitalized on your SEO Area page (just an annoyance more than anything but it will make you look amateur). Example:
https://yourawesomedomain.com/areas/milwaukee
-should be changed to-
https://yourawesomedomain.com/areas/Milwaukee
So What Does An SEO Area Page Look Like?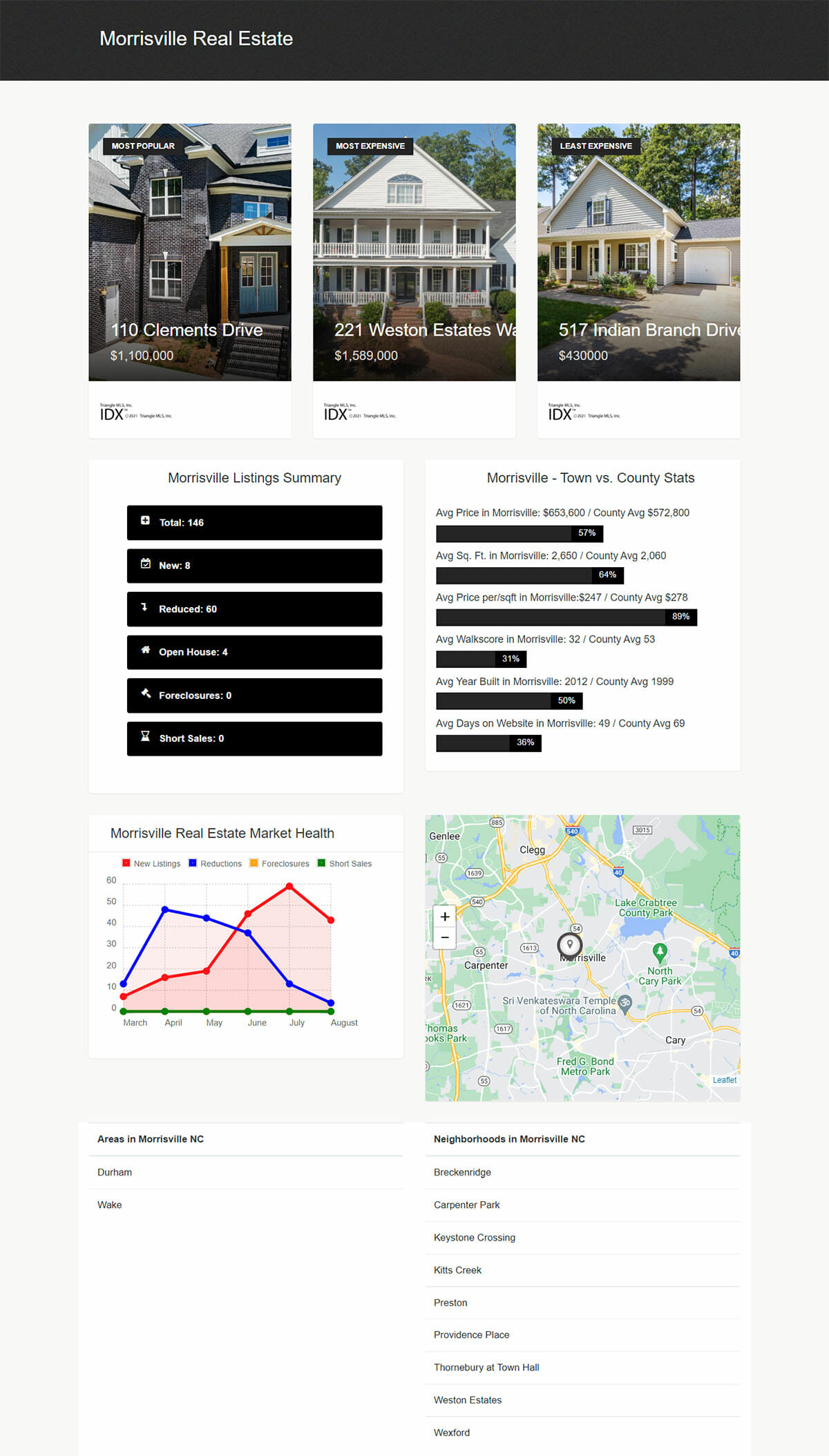 By default, this is what your SEO Area page looks like before adding custom content. It provides site visitors with market statistics, links to the most expensive, least expensive, and most popular properties, as well as links to general searches in the defined area. Your custom content will be displayed below the listings chart and area map.